---
---
About Our Programs
For kids 5-7
Karate is a great way to start off your child by building the essential life skills they will use throughout their lives. skills such as respect, responsibility and self-discipline.
---
| | |
| --- | --- |
| | KIDS will learn SELF CONFIDENCE, POISE, COORDINATION, ANTI BULLYING and personal SAFETY skills in a well supervised ENVIRONMENT. |
---
Our unique brand of Shotokan Karate focuses on practical real world self defense. All while improving poise, agility and overall muscle tone and Fitness levels.
​
Learn to protect yourself and your family!
---
Machida Karate For MMA, self defense and fitness lets everyone train like an MMA Fighter in a safe non-competitive environment. Using the unique Machida family karate style, this program is certified by former UFC Light Heavyweight champion Lyoto Machida and his brother and current Bellator MMA fighter Chinzo Machida.

Machida Karate is easy to learn and challenging for any fitness level.



Matsunami Karate is the only school in the Northeast to offer this EXCLUSIVE PROGRAM!
---
---
Matsunami Karate Gear Is Here!
---
---
NEW! Elite Private Training Is Here!
---
---
Anytime
Anywhere
Anyone

Unlike traditional Gyms, Karate has no limits!

"The principal basis for karate's world-wide popularity is the 'anytime, anywhere, anyone' principle. Simply put the practice of karate knows no limitations; there are no time, place, age, or gender restrictions. One can train any time, any place, with anyone, or even by one-self. Moreover, one can practice for fitness, self-defense, recreation, competition, character development, or personal discovery."
​

– Shoshin Nagamine 1907-1997
---
---
---
---
---
---
---
Cool Stuff
Powered by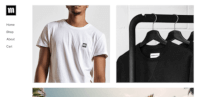 Create your own unique website with customizable templates.